Book 2: Peak Performance!! Awaken and Achieve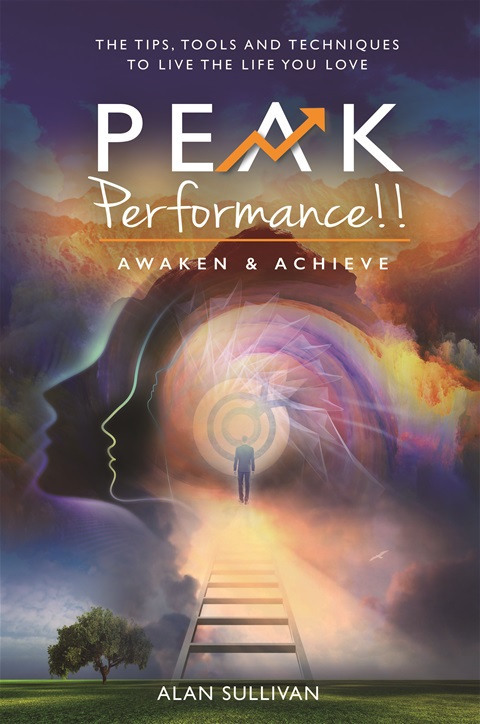 Published on Amazon, 2018. KINDLE VERSION: www.amazon.com/dp/B07K285QJ2
PAPERBACK VERSION:
https://www.amazon.com/Peak-Performance-Achieve-Alan-Sullivan/dp/0993585531
This second book in the Peak Performance!! series is ideal for the over 30's interested in life design, and is a suitable complement to Book 1. It will help you to make adjustments to both your inner and outer worlds, in order to live an outstanding life of freedom, love and adventure.
IF YOU WANT TO REINVENT YOURSELF AND LIVE AS A "NEW YOU" OR THE BEST VERSION OF YOURSELF THIS IS THE BOOK FOR YOU!
The book contains the insights, practices and advice to live a full life of meaning and purpose. It demystifies the spiritual path and provides unique pictorials that demonstrate simply and clearly, for the first time, how to use your mind effectively and not let it use you! This book is steeped in practical ways to understand your mind and reprogram it through new experiences.
This is a book for very successful people who want to maximize their personal effectiveness and happiness in moment by moment living.
Table of Contents
INTRODUCTION
PART 1: Awakening
CH. 1 All you Need is Love
CH. 2 It's Not My Business
CH. 3 You are Pefectly Imperfect
CH4. Don't You Just Love Your Ego?
CH 5. Get Ready for Life
PART 2: Achieving
CH. 6 The Game of Life
CH. 7 Bouncing Back
CH. 8 Back to School
CH. 9 Abundance
CH. 10 Peak States
PART 3: Well-Being (Maximizing personal effectiveness)
CH. 11 On Top of the World